Posted 22 October 2012 - 10:52 PM

The Old-Greek word

λόγος

(logos) is

"an important term in philosophy, psychology, rhetoric, and religion"

. (

wikipedia/Logos

)

It is still used in words ending with -logy (biology etc.), logic, logarithm, etc.

I suspect that it is related to the Old-Frisian word LOGA (flame).

[flame]

logi - icelandic, oldnorse

loga, logha - oldfrisian

[light]

ljós - icelandic

lys, ljos - danish, norse

ljus - swedish

ljocht - frisian

lux - latin

The flame is associated with the tongue.

Vlam:

"Min of meer

tongvormig

, of als zoodanig gedacht of voorgesteld zichtbaar verbrandingsverschijnsel..."

(

http://gtb.inl.nl

)

(=> "more or less tongue-shaped...)

vlam [

tongvormig

verbrandingsverschijnsel]

(P.A.F. van Veen en N. van der Sijs (1997),

Van Dale Etymologisch woordenboek

)

(=> again: "tongue-shaped ..."

In OLB it is used as LOGHA at the following pages/lines:

[049/22]

[066/07]

[082/32]

[084/16]

[084/23]

[120/27]

[162/14] 2x

Compare relation tongue/ speech: (Latin) LINGUA - language, tongue.

In Dutch it is common metaphor to say "flames licked ..." (vlammen likten ...).

Classic etymology relates logos to the verb

legein

- to speak.

In Dutch we use

liegen

(past:

loog

) for

to lie

.

======

Posted by Abramelin 23 October 2012 - 01:51 PM

Old Dutch: liegon

Old Saxon: liogan

Middle Low German: legen

Old High German: liogan

New High Herman: lügen

Old Frisian: liāga

New Frisian: lige

Old English: lēogan

New English: lie

Old Norse: ljúga

New Swedish: ljuga

Gotic: liugan

Old Church Slavonic:lŭgati

Russian: lgat

Lithuanian: lugóti (= to request)

Related Dutch verb: lokken (= to lure)

Related Dutch word: loochenen (= to deny)

PGem: *luginō-

PIE: lugh-, *leugh- (IEW 686)

http://www.etymologi...refwoord/liegen

======

Posted 23 October 2012 - 04:09 PM

I would like to add the consideration that what

λόγος

(logos;

the

Word, reason) was in our culture (which is based on Greco-Christian thinking), the

FODDIK

(eternal, sacred fire, with its

LOGHA

; flames) seems to have been for the Fryans (as desribed in the OLB).

======

Posted by Abramelin 23 October 2012 - 05:23 PM

I had to think of another thing: the Celtic god LUG.

The etymology of Lugdunum is a latinization of the Gaulish place name Lugodunon. Gaulish was the predominant language of the region when conquered by the Romans. While dunon means hill fort, the source of Lug is uncertain. The most commonly offered meaning is the Celtic god named Lug, whose messenger was the crow (lugus), and who was associated with the ***.k (rooster), ultimately to become the symbol of France. Most references to Mercurius in Gaul really refer to Lug, as he was the Celtic god that the Romans considered to be Mercury (see interpretatio graeca for more about this practice). Lug was popular in Ireland and Britain, but there is no evidence of his cult or worship in Lugdunum, except for the apparent use of crows as an early symbol of the city. An alternative derivation is that lug refers to the Celtic word for light (a cognate of Latin lux and English light). http://en.wikipedia.org/wiki/Lugdunum The exact etymology of Lugus is unknown and contested. The Proto-Celtic root of the name, *lug-, is generally believed to have been derived from one of several different Proto-Indo-European roots, such as *leug- "black", *leuǵ- "to break",[4] and *leugʰ- "to swear an oath", It was once thought that the root may be derived from Proto-Indo-European *leuk- "to shine", but there are difficulties with this etymology and few modern scholars accept it as being possible (notably because Proto-Indo-European *-k- never produced Proto-Celtic *-g-). http://en.wikipedia.org/wiki/Lugus

A rooster calling at the dawn, a crow as a spiritual 'messenger' in many cultures around the globe..

LUG, seen by the Romans as no other god but their Mercury, the god of (also) speech, and communication in general. messages, writing, and so on.

Then a (possible but disputed) connection with bright, shining and light.

And last but not least, Overwijn (the third writer to publish a book, including a translation, about the OLB in 1941/1951) who tried to explain many words and names in the OLB using Celtic.

======

It makes sense to me:

foddik = fire = flames (tongues) = light = inspiration = messages = words = communication, etc.

LOGA'S magic

when you look into a flame long enough it will turn into a tongue and start to speak

imagine long dark and quiet nights, no books, radio, tv, internet

act during the day

reflect during the night

I bet many great ideas started by looking at the moon, the stars and into flames at night.

======

Posted by Van Gorp 25 October 2012 - 01:18 AM

Interesting, first feeling is "How to reconcile the meaning of (sun)light (of the truth) with the lie"

-> Blinding light, we can't see clear. Laaiend enthusiast zijn we dan.

Liegen, loochenen, lokken -> verblinden.

Leuk is aan-lokkelijk: we get attracted by the light it transmits. But sometimes also blinded by it.

Other expressions: Liegen dat em zwart ziet (or he's lieing untill his nose becomes black or smoke above his head, from fire offcourse)

Alok: Indian name for Light (Hel-lig, Al Hoog, Halo).

Some other linguisitc connections (maybe allready mentionned, but it's amusing)

op-

lichten

: giving light but also to

cheat

op-

luchten

: dat licht op, zuiverend, make

pure

er

licht/lucht

over gaan, dood

leuk, luchtig, een klucht -> joke, jokken, liegen

de

luchter/luster

: the holder of candles -> met veel luister gebracht -> erin geluisd

======

Posted 26 October 2012 - 08:47 AM

More about LOGA (flame), the probable origin of both LUX (the light) and LOGOS (the word).

~

Etymologisch dialectenwoordenboek (1996), A.A. Weijnen

TNZN - Taalatlas van Noord- en Zuid-Nederland
~
Westfries woordenboek (1984) Jan Pannekeet
(Dictionary of Westfrisian dialect)
loef
, znw. de/'t
1. Loefzijde
2. Zwarte walm of aanslag van o.a. een petroleumlamp of -stel.
Zegsw. teugen de loef in strouke, tegen de haren in strijken.
- Teugen de loef in weze, tegen de draad in zijn, dwars zijn.
loeg
, znw. 't. Verouderde variatie van loef 2.
loege
, w.w. Verouderde variatie van loeve, zie aldaar.
loeve
, w.w. Ook: walmen, loef afgeven. Vgl. loef. / 't Lichie loeft.
~
In OLB (original page/ line nrs.)
[010/25]
THJU
LOFT
WÀRT SWART ÀND NÍLOF FON TÁRA TO STIRTANE
[010/29]
BLIXEN SKRÉF AN.THÀT
LOFT.RVM
.. WÁK.
[012/11]
FJUWER THINGA SEND TO JVWE NOT JÉVEN.
MITH NÁMA.
LOFT
. WÉTER. LÁND ÀND FJUR.
[026/06]
SEND THÉR SVM THRVCH THENE FYAND FAT
ÀND KVMATH HJA TO BÀK
SA MOT MÀN HJAM FÉR FON THÀT KÀMP OF FORA.
HWAND HJA MACHTON FRY LÉTEN WÉSA BY ÀRGE
LOFTUM
ÀND THAN NE MÜGON HJA HJARA
LOFTA
NAVT NI HALDA
ÀND TACH ÉRLIK BILÍWA.
[049/16]
LOFT
WÀRTH ALTHUS DROV ÀND DIMME.
[068/30]
MIN.ERVA SÉIDE
HALD OF HWAND HIR IS THJU
LOFT
ÔLANGNE VRPEST
THRVCH THA PRESTERA.
[119/06]
THES NACHTES SKÁTON HJA BARN.PILA ANDA
LOFT
.
[201/19]
THÀT FOLK WÉRMITH HI WITH THA SALT.ÁTHUM THERA GOLUM KÀMPED HÉDE
HÉD.ER UT.A SAXANA.MARKUM LVKTH
MITH
LOFTE
FON GRÁTE HÉRA.RÁVE ÀND BUT.
Also: LOV / LOVE as used in OLB can be related.
======
Posted 26 October 2012 - 03:27 PM
Van Gorp, on 26 October 2012 - 11:13 AM, said:
Maybe we can add Locus (location, space, open ruimte) besides Lux, Logos [...]

From LOGA / LOGHA (flame/ fire) to LOGE (lodge, location, camp, place to live)

[048/15]

BUTA ÀND BIHALVA HÉDON VSA STJURAR ÀND KÁPLJVD MÉNI

LOGE

ANDA HÉIND KRÉKELANDA ÀND TO LYDJA.

[Ottema/ Sandbach p.69]

Bovendien hadden onze zeelieden en kooplieden menige

loods (factorij)

in de heinde Krekalanden (Italie) en in Lydia.

Moreover, our sailors and merchants had many

factories


among the distant Krekalanders and in Lydia.

[059/30]

HI WROCHTE THAT TÜNIS BI THÉRE MVDE FON.T.FLÍ.MAR EN

LOGE

BVWA MACHTE.

[Ottema/ Sandbach p.85]

hij bewerkte dat Teunis bij de mond van het Flymeer een

pakhuis

bouwen mocht.

he induced Teunis to build a

warehouse

at the mouth of the Flymeer.

Ottema and Sandbach translated loods/ pakhuis and factory/ warehouse, but camp or lodge would have been correct too.

French: loger = to make a camp

English: lodge

Middle English: logge

A home, a place to stay (if only for a while) is a place with a fire, to stay warm and have light during the night.

Home is where the

hearth

is.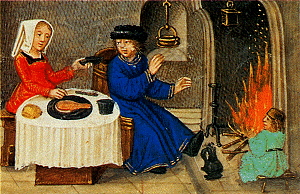 That is how LOGA (fire) became LOGE (camp, lodge).
======
What the hearth is for a house (the warming center), the heart is (or was thought to be) for the body.
heart - english
hjärta
- swedish
hjarta
- icelandic
hjerte
- danish, norwegian
herz - german
hart - dutch
hert - frisian
HIRTA
/
HIRTE
/ HIRT- OLB
hearth - english
herd - german
haard - dutch
hurd - frisian
HÉRD - OLB